Happy Release Day to Barbie Bohrman and her new book PLAYING IT SAFE! Make sure to enter the giveaway below for a chance to win an ebook copy of this book or a $50 Amazon Gift Card! Good luck!!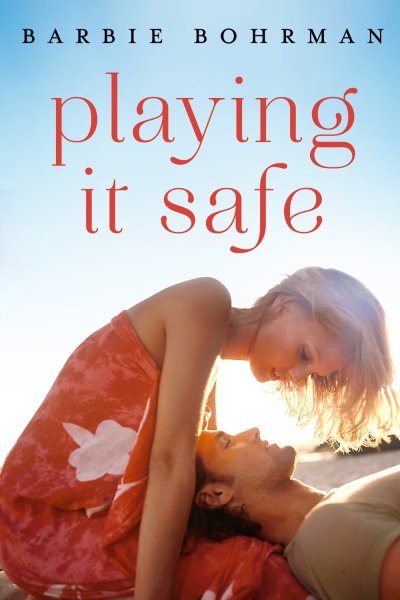 Julia Boyd has dated more than her share of jerks, and she's done even pretending to like them. Putting her dating life on hold and focusing on her event planning career is a
much
safer bet for the blue-eyed blonde…until she meets her newest client. Organizing the opening for an art gallery should be a breeze for Julia, but gallery owner Alex Holt is becoming very distracting. Tall and muscular with enough charisma and sexy dimples to make Julia swoon, Alex could be the perfect man. The two of them click immediately, creating enough witty banter to ignite sparks. But just before flames of passion can erupt with Alex, Julia begins planning an engagement party…and learns the groom is Aiden, the man who broke her heart years ago. When Aiden admits that he still has feelings for Julia, everything changes. Should she seek shelter in the familiarity of the past, or should she risk everything on a brand-new love?

I stare at the phone as if it's about to sprout wings and fly away at any moment. "Don't be such a chicken shit," I mumble out loud to myself. Then I pick up the receiver and angrily start pressing buttons as if I have a personal vendetta against the phone. Alex picks up on the second ring. "Julia," he says. His voice, deep and lush this early in the morning and a shiver runs through me remembering his words from yesterday: I'm going to make you come so many times, blah blah blah . . . I've taken the liberty of just focusing on this piece of his threat because well, honestly, who the hell cares what else he said? It's not important. "Julia?" he asks. "Yes?" He laughs a delicious low rumble from his chest. Muted, but sexy as hell. "You called me. Is there something you wanted?" he asks. The question is laced with possibilities. And for once, I'm not going to tuck my tail between my legs and run. "Yes," I say trying to contain the smile threatening the corners of my mouth. "I was wondering if you wanted to get together or something." "Are you asking me out on a date, Julia?" "It's not a date… technically." It's soooo a date. "It's not?" he asks amused. "Then what would you call it?" "Two friends who obviously are very attracted to each other and-" "-Obviously," he interrupts. "Go on." "As I was saying… two friends who are very attracted to each other and would like to get to know each other better." "A date," he says. "It's not a date, Alex." "When would you like this not a date but very much so a date to happen?" he asks playfully. I like playful Alex. Too much. But I don't want to let that show while on the phone. I'd rather play it cool, safe, and slow. It's also a bit of a torture trip for both of us, which in the long run makes the chase that much more exciting. I mean, who doesn't love a good slow burn? I know I do. "How does tomorrow after work sound for our very much not a date sound?" I ask. "Fox's? Say around six o'clock?" He's smiling when he answers. "It's a date. Shall I pick you up at your office?" "I'll meet you there." "Of course you will because it's not a date, right?" he asks. "Just two friends who are very attracted to each other and want to get to know each other better?" "You're catching on," I answer. "I'm a fast learner, Julia," he says with a light chuckle. "I'll see you tomorrow."

Barbie Bohrman was born and raised in Miami, FL and ultimately moved to the Garden State where she currently resides with her husband and two children. Life, and all that comes along with it and having long since given up on her dream of pursuing anything in the writing world, a prologue contest in a book club garnered her interest enough to throw her hat in the ring to see what, if anything, would come from it. From that contest came the roots of her debut novel, Promise Me. When she is not writing you can find her trying to get through the 1000+ books on her Kindle, or watching Lost or Seinfeld.

---

♥READ THE BOOKS♥
**Both Books Sold on Amazon**