Today we're excited to celebrate the release of Ella and Micha: Infinitely and Always by Jessica Sorensen. Enjoy a sneak peek into the book below and enter the giveaway! Good luck!
**A Secret Series Novella**
After five years of marriage, Ella couldn't be happier. Her job is great. Her marriage is amazing. But when she receives some surprising news, her world is turned upside down. Micha loves being a musician, but being on the road, and away from Ella, is difficult. When the industry begins to put pressure on him to change his image, he makes a choice; one he fears is going to drastically change Ella's and his future forever. That is until he learns Ella has a secret, one that makes his career choice seem hugely insignificant.
I would travel to hell and back just to be with you
." "Ha, ha," he says playfully, sticking out his tongue. "You wound my heart, Ella May. I wrote those lyrics for you and you mock me with them." "I'm not mocking, just having fun—" He cuts me off as he nips at my bottom lip, eliciting a soul-bearing groan from me. He slowly starts unbuttoning my shirt, picking up the pace the farther down he gets until he finally becomes so impatient he rips the fabric off. "I miss your kisses the most." I willingly lean against the piano as he unfastens my bra and urges me back. He quickly stands up to tug his shirt over his head and then places an arm on each side of me as his body hovers over mine. "I miss everything the most," he says before he kisses me. "All the fucking time. I swear to God, I need to see you more." My legs fasten around his waist as the ivory keys dig into my flesh. My fingers trace the outlines of his muscular stomach, the inscription of his tattoos, feeling his heart slamming erratically against his chest. Excitement bursts to the surface when he pushes back to undo the button on my jeans. "Micha, wait." I pant. "Are we really going to do this?" "Do what?" He teases me with a cock of his brow as he gradually unzips my jeans. I kick off my shoes while I gasp for air. "Have sex on a piano." He pulls my jeans and panties off, his passionate gaze skimming every inch of my flesh, stifling my eager body with overpowering heat. "You sound so excited about the idea," he says as I reach for the top of his pants and unflick the button. "I'll take it wherever I can get it." I sit up and yank his jeans down. "Besides, we can add it to our growing list of strange places we've had sex. I think this one might earn the number three spot, right below backstage at a concert, wrapped in the curtain." Instead of smiling, his happiness falters. "I promise I'm going to find a way to change all this, pretty girl. You deserve so much better than this."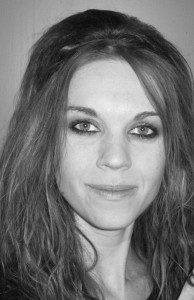 The New York Times and USA Today bestselling author, Jessica Sorensen, lives in the snowy mountains of Wyoming. When she's not writing, she spends her time reading and hanging out with her family.