Happy Release Day to Brenda Rothert and her new book KILLIAN! Read a sneak peek into the book below and make sure to enter the giveaway! Good luck!
♥ BUY THE BOOK ♥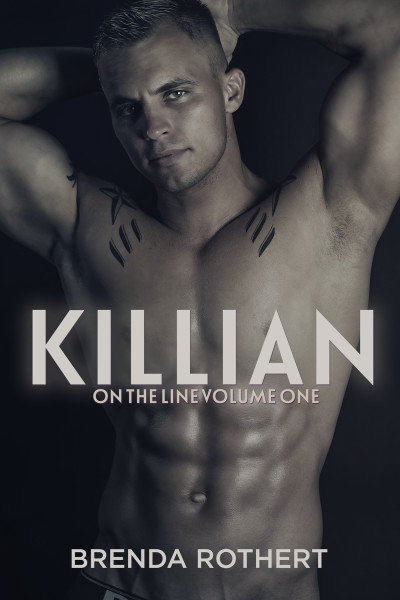 Killian Bosch knows he's his own worst enemy – he just doesn't give a damn. The star forward of a minor league hockey team, he's unstoppable on the ice. His reckless behavior, devil-may-care attitude and complete disregard for consequences have made him a major source of headaches for the Fenway Flyers' brass. But the new Flyers owner is more steel than brass. Sidney Stahl is a disciplined woman who parlayed earnings from a college job into a real estate empire. She's determined to transform the Flyers from marketing nightmare to hockey powerhouse. Once she gets Killian in line, she knows the rest of the team will follow his lead.
The seduction of his sexy new team owner is a challenge too forbidden for Killian to resist. Sidney plays into his attraction as a means of controlling him, but soon finds that she's the one surrendering. It's all on the line as Killian and Sidney are forced to choose - business or pleasure?

4 Star Review by Jen Skewes
I love Brenda Rothert's writing and will read anything that she writs.
Especially when it involves a sexy hockey player because let's face it I am a sucker for a sexy man on skates.
I was sad to see the Fire On Ice series end but so excited to find out that there would be a spin off series about the minor league team.
Killian Bosch is the captain of the Flyers, a minor league hockey team.
His coach is Orion Caldwell whom we met in Release.
The team is having a bit of problems at the moment.
The team needs a complete makeover so to speak.
Killian is one of the best players on the team and the captain for a reason.
But in the past his bad boy ways have gotten him into trouble.
Between the fights and the many women he has made a name for himself.
But now that there is a new owner in town, that is all going to change.
The new owner is Sydney Stahl and yes you read that correctly.
The new owner is a she, who is smart, rich, beautiful and known as the ice queen.
Sydney is young and beautiful and rich.
She is here for one reason and that is to turn this team around.
He job is her life.
She worked hard to get where she is so all of
her time and energy is dedicated to her business and now this team.
She has no time for dating or a love life and certainly no time to be drooling over a sexy hockey player, especially when said hockey player works for her.
But there is something about Killian and she finds herself thinking about him in ways that she shouldn't.
And not just because she has no time for love but because he is off limits.
An owner of a hockey team should not have anything more than a professional relationship with her players.
Right?
Can Killian convince the ice queen that they are good together and be the one to melt the ice around her heart?
Let me just say that I loved Killian and Sydney together.
Brenda knows how to create these sexy hockey players that you just fall for.
Killian has this bad boy side to him but he has his reasons for being that way.
But deep down he is a good guy who cares.
He is falling for Sid in a way he never expected.
He is sweet, sexy and loves to talk dirty.
Sid finds herself falling more and more each day for Killian but she knows that being with him is wrong.
But neither one of them can deny the attraction and connection that they have.
They just work.
They are simply made for each other.
I loved watching these two battle with their feelings for each other and I loved watching them fall in love.
I loved that there was not a lot of drama and angst because honestly it was not needed at all.
The drama that did come was within their relationship.
Their drama was real and had everything to do with their feelings, and falling in love, a territory that seems to be foreign for the both of them.
I felt their connection between them and at times felt my heart racing just a bit wondering what would happen next.
But in the end Ms. Rothert left me smiling.
I loved that we got to see more of Orion and some of the moments that he had with Killian were touching.
I did want a little more in the end and their story while it ended happy leaves room for more.
But I know that there will be more to this series where I hope to see more of Killian and Sid.
Loved this one!!

My mind was jerked back to the present when I became aware the coach had moved on from his teaching lesson. "The new owner's upstairs watching practice," Orion announced, giving us the evil eye. We all looked up in the direction of the owner's box, but I couldn't see anyone standing inside. Orion turned to Bruce, the Flyers assistant coach, and spoke in a voice loud enough that no one could miss what he was saying, "Bruce, did we not have a meeting with the new owner before practice this morning?" Bruce nodded his agreement. "Tell me if I remember this right, Bruce." Orion continued. "Did she tell us this team will be undergoing some major changes? That we'll be making cuts and bringing in new talent?" "That's right, Coach," Bruce said in an even tone. Sighs and shuffling from around me indicated nervousness. I had nothing to worry about. I was the captain of the team and probably the best player here, though Bennett was a very close second. But the idea of cutting the dead weight got my attention. I was as disgusted as Orion with the record of our team. It was fucking embarrassing. He'd been brought in by the new ownership to turn things around and it sounded like that was about to happen. "I've been here two weeks," he said. "I've given all of you a chance to show me you want to be on this team. Starting today, there'll be one on one meetings between some of you and the new owner. Later on, Bruce and I will talk to each of you individually to let you know who's staying and who's going. Now back to the fucking play, boys." As we turned to get back in line, Orion called Liam's name. "You're up first with the owner," he said. "You know where her office is?" My head swiveled to look at Orion. Her? The new owner was a woman? Fucking hell. A woman wouldn't be able to make the tough decisions this team needed to recover from its place at the bottom of the league. And what about Liam? He was a quiet, solid player on the first line. What the hell did the new ownership want with him? I wanted to go with him to that meeting, but that was never going to happen. Liam skated over to the bench and I glanced back up at the owner's box, glowering. Anybody who fucked with Liam was also fucking with me. I had nothing to lose, and a man with nothing to lose was never someone you wanted to fuck with. Especially not by some woman who thought she could overhaul this team and turn things around. Others had tried and failed. She would be no different.


Brenda Rothert lives in Central Illinois with her husband and three sons. She was a daily print journalist for nine years, during which time she enjoyed writing a wide range of stories.
These days Brenda writes New Adult Romance in the Contemporary and Dystopian genres. She loves to hear from readers by email at bjrothert@sbcglobal.net.

a Rafflecopter giveaway