Oh Henry
OHellNo Series, Book #2
by Mimi Jean Pamfiloff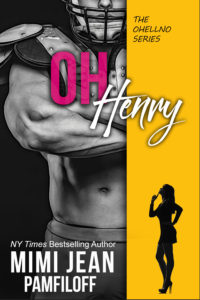 From New York Times Bestseller, Mimi Jean Pamfiloff, Comes OH, HENRY, Book Two of the Ohellno Series. (Stand Alone Story.)

SHE'S GOT ME BY THE FOOTBALLS…

My name is Henry Walton, and though I've been called many things throughout my life—tree trunk, moose, walrus—I am now six foot five, solid muscle, and the hottest defensive end in the NFL college draft. This is the moment I've been waiting for: fame, women, and glory.

Just one problem: I'm suddenly in a bad slump. And it started the moment I got dumped by Elle, the nerdy goddess with thick glasses, a smokin' hot body, and a genius IQ.

So what gives? We only dated for a few weeks, and it's not like I've missed her. (Much.) Regardless, all the facts point to one conclusion. Elle is my lucky nerd-charm.

So call me superstitious, but I have to get her back before I lose everything. Even if she's the last girl I should want and she now hates my guts.


BUY LINKS
Giveaway
a Rafflecopter giveaway
About the Author

MIMI JEAN PAMFILOFF is a USA Today and New York Times bestselling romance author. Although she obtained her MBA and worked for more than fifteen years in the corporate world, she believes that it's never too late to come out of the romance closet and follow your dream. Mimi lives with her Latin Lover hubby, two pirates-in-training (their boys), and the rat terrier duo, Snowflake and Mini Me, in Arizona. She hopes to make you laugh when you need it most and continues to pray daily that leather pants will make a big comeback for men

Sign up for Mimi's mailing list for giveaways and new release news!