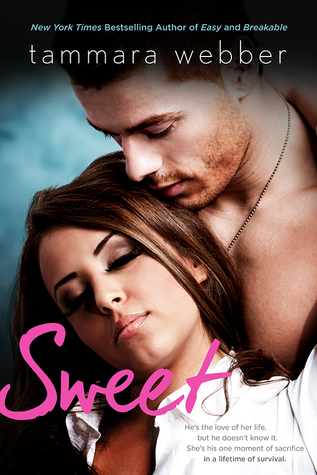 SWEET (Contours of the Heart #3) by Tammara Webber
NA Contemporary Romance
Blurb:
He's the love of her life, but he doesn't know it.
She's his one moment of sacrifice in a lifetime of survival.
He was damaged and wild, but resilient.
She's always been obedient. Now she's restless.
Home for the summer between college and med school, Pearl Torres Frank knows two things: Boyce Wynn is the embodiment of everything she should run from, and everything she wants to run to. Rebellious and loud. Unconcerned with society's opinion of him. Passionate. Strong. Dangerous.
And one more trait he hides from everyone but her:
Sweet
.
4 Star Review by Jennifer Hagen
"Sweet" is told in present day dual points of view from both Boyce and Pearl, with each view reminiscing about the past, taking us to the very first time they met when Pearl was 5 years old.
Pearl is now 20 years old and a recent college grad.
Pearl was placed into a higher grade and Royce repeated a year, so although they are 2 years apart in age, they graduated in the same class.
Another fellow classmate, Lucas Maxfield, who has been featured in his own books ("Easy" and "Breakable") and while Lucas's name is mentioned several times, it is not necessary to have read his books before starting in on "Sweet."
Pearl started out her life with her only mother to care for her and support her.
She was a waif of a girl, never feeling confident in her second-hand clothing, opting to stand back and let others take the spotlight.
After she met Boyce under a life-saving circumstance, they had an unspeakable bond and would naturally seek the other out when needing to be away from their peers.
Nobody knew how close they were with each other, even now as young adults their friendship is a mystery to their friends and family.
For most of my life, Boyce Wynn's smile had been three things to me:

safety, warmth and home…
Boyce has had a rotten upbringing.
His father is an argumentative, fist-pounding alcoholic; his mother ran away to escape the beatings but left Boyce and his brother to fend for themselves.
Boyce has been managing and working his father's mechanic business for 2 years while his father has been sick.
His father has now passed away and Boyce is finally free of his father's brutality.
Right now life is the best it's ever been for Boyce.
He has his own business and has his own place to live – granted it's a crappy trailer house leaning up against the shop-- but still, it's his and his alone.
Pearl, on the other hand, is going through a difficult time in her life.
After being accepted into multiple medical schools, she has decided that this is not what she wants to do.
This was her mother's plan reinforced by her doctor stepfather.
All her life Pearl has been interested in the sea and all its inhabitants.
She passes on the opportunity to attend med school and instead enrolls in the graduate program for marine biology.
Pearl's mother is so mad at Pearl's change in plan that she cuts Pearl off.
Pearl is now forced to find a place to live and a job.
Boyce has a spare bedroom and immediately offers it rent-free to her.
Now it should be noted that 4 years ago Boyce and Pearl shared an intimate moment.
So intimate in fact that he was her first.
They both had deep-rooted feelings for the other, but neither of them would speak or act upon it.
They had just graduated from high school and Pearl would be leaving in 3 months to attend college—the time was now for them to bare themselves. This was what Pearl had been dreaming of since she was 14 years old
Her idealism of a happily ever after with Boyce Wynn died the following night, and they went on being just friends again with the occasional text and visit on her breaks from college.
Boyce never felt like he had something to offer Pearl before, but now with his business doing well he feels like he finally is worthy and he is ready to have Pearl be more than a friend.
Pearl feels the same way and lets loose her feelings with the guide of alcohol. (Well somebody needed to finally say it!)
"You're so sweet.

That's why I love you."
Life is good…he finally has the girl, but never in his wildest dreams did he think that he would be one step away from losing it all.
How can it stay this good when the past is threatening to take it all away and Pearl's future is miles away from their hometown.
Enjoy the present because their future lies in the unknown.
"I want you," she whispered between kisses.
"Take what you want from me then.

It's been yours all along."
GIVEAWAY:
About the Author:
New York Times and USA Today bestselling author of EASY and BREAKABLE (Contours of the Heart series - NA), as well BETWEEN THE LINES, WHERE YOU ARE, GOOD FOR YOU and HERE WITHOUT YOU (Between the Lines series - YA/NA).
I'm a hopeful romantic who adores novels with happy endings, because there are enough sad endings in real life. Before writing full-time, I was an undergraduate academic advisor, economics tutor, planetarium office manager, radiology call center rep, and the palest person to ever work at a tanning salon. I married my high school sweetheart, and I'm Mom to three adult kids and four very immature cats.
website:
tammarawebber.com
Facebook